And the Beat Goes On....
( Updated March, 2002 )
| | |
| --- | --- |
| In 1964/65, when the Elegant Four recorded "Time To Say Goodbye" it was a simpler time; even though the Beatles had arrived, "Bubble Gum" music still had considerable appeal, and many rock-and-roll radio stations loved its 2 minute length. (The normal maximum was about 3 minutes; otherwise, it was very unusual for a longer song to get airplay.) | |
Time to Say Goodbye (1.03 MB music file in .MP3 format)
By 1968, when "Gimme Some Lovin'" appeared in the record racks, times had definitely changed. The "three-minute" rule was still in effect (except for obscure, FM stations - but nobody listened to them, anyway...) - and the song was split into Part I and Part II for record purposes. Issued too soon after the original topped the charts (approximately two years), a lot of gimmicky "hooks" were inserted, so that it would appeal to those following some of the new directions music had taken.
By the way - this amazing LIVE crowd-pleaser never "came across" in the transition to vinyl; it seemed much too "busy" on the record, and flopped without a whimper of recognition or any record sales of note.
Gimme Some Lovin', Part II (1.68 MB music file in .MP3 format)
---
Can't Stop The Music...

The internet is such a great thing... one of the persons who saw the original "15 Minutes" page (Peter Trentacoste) wrote and filled me in on some of happenings during the past 34 years. Tommy Cosgrove is still very active in the music business - and had recently been featured in a PBS music special. Pete even provided some photos, taken at a "Tremont Avenue Reunion" in October, 2000; the band was the "Tremont Ave. All Stars", made up from old members of Bronx bands from the 60's and 70's - led by Tommy Cosgrove, pictured below. (Bennet Benware - whom I remember as a ten-year-old "little brother" to Jon, the Deltair's lead guitarist - is on drums.)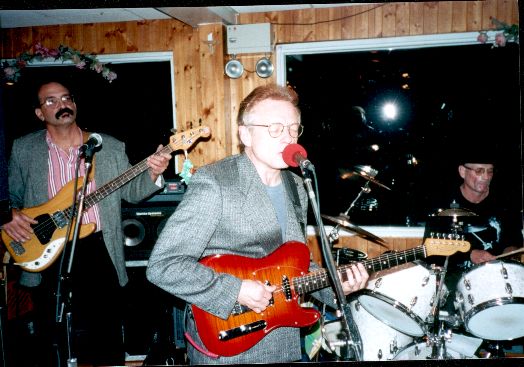 It's pretty clear that the years have been kinder to Tommy than to me!
(There's something to be said for "living your dreams", after all...)
---
But That Ain't All..
During my time with the Elegant Four/Wendigo, there was a lot of uneasiness in everyone's life. We were embroiled in a foreign war, many of us were approaching/became prime draft age, and most folks had some very valid concerns about their personal safety. Would some twist of fate come out of the blue and forever change your life? It did for me.
Fortunately, all of that is behind us now... isn't it? Please proceed to
Green Apples
---
Return to the Tapestry Project
Photographs and content © 1998,1999 John P. Tomany
Tremont Ave. Reunion photo © 2000 by Peter Trentacoste, used with permision